Take your appetizer game to a whole new level with my crostini recipes, and add a little magic to your next gathering or dinner party.
These crostinis not only look like dishes that would be served at the Met Gala or a famous awards ceremony, but they taste just as delightful, too!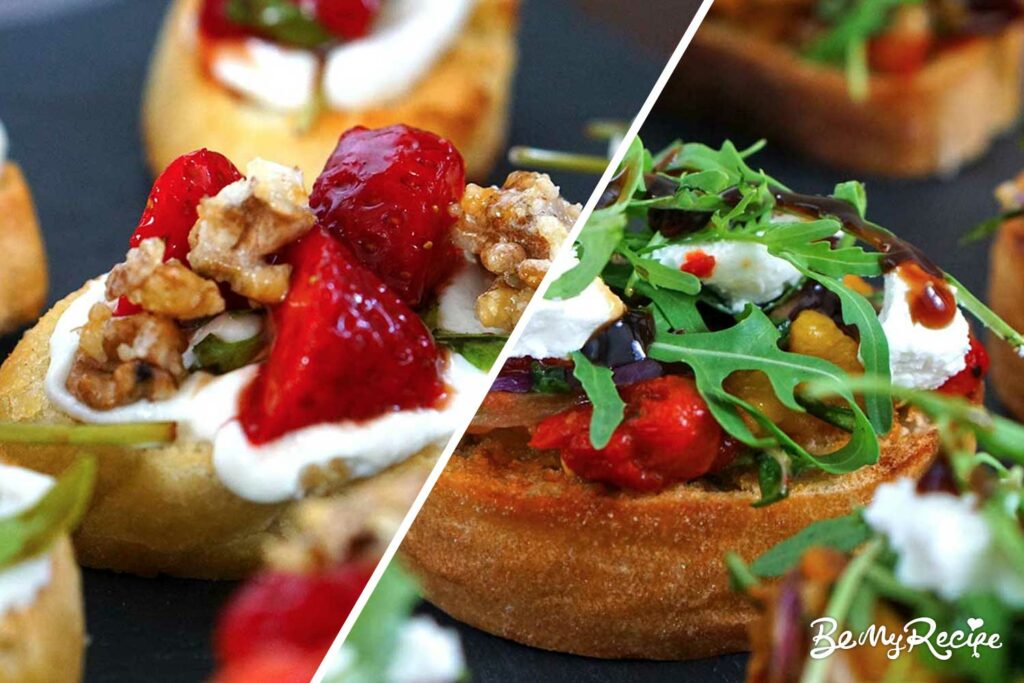 Crostini Recipes
Quite simply, crostinis are Italian toasts. That delightful crunch of grilled Italian bread is a sensation that never gets out and can be a foundation for some truly delicious toppings.
You can have so much fun with crostinis, and they make for a really simple and versatile appetizer.
I've had lots of fun with these crostini recipes, and some of the flavor combinations are really incredible. If you need a dish to, quite literally, get your (dinner) party started, give one, if not all, of these a try.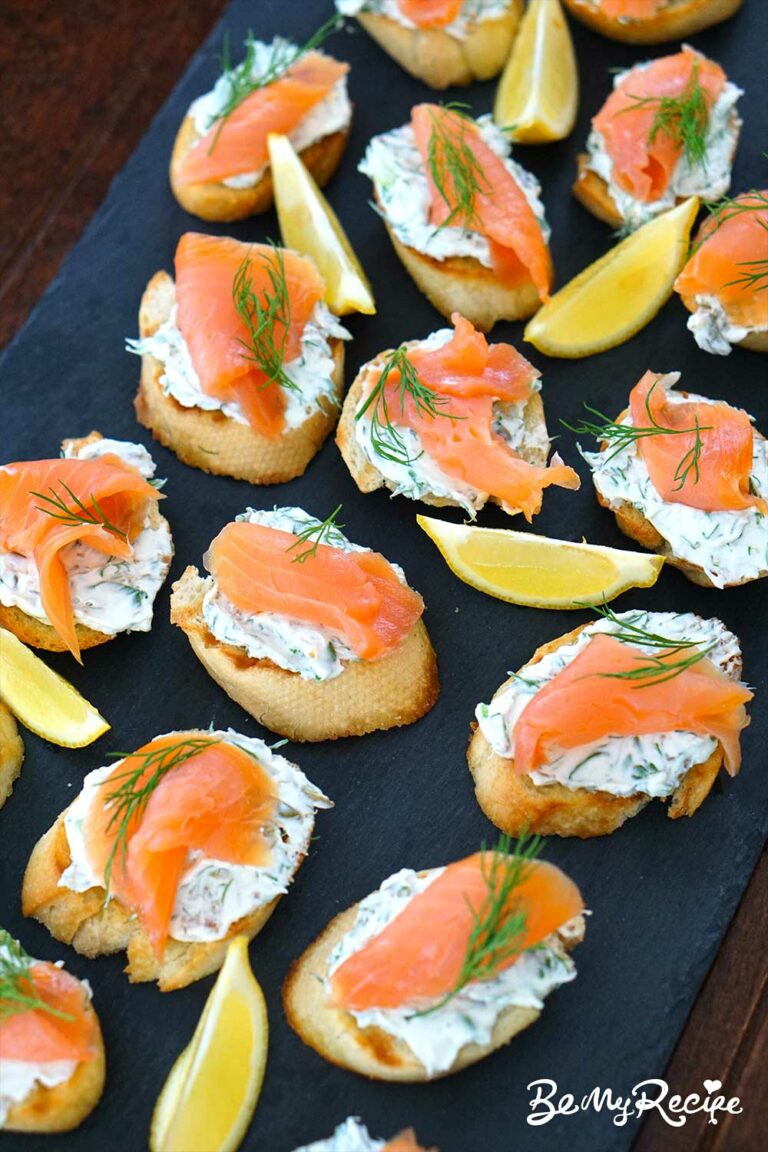 Smoked salmon is always a great go-to for appetizers, and I usually don't need much of an excuse to bring it to the dinner table.
The magic with this crostini is that bed of herby cream cheese that compliments the silky smokiness of the salmon so beautifully.
While this is an appetizer, if you served it with roasted veggies or potatoes, this could be a main in its own right!
Time to Make: 15 minutes
Go to Recipe
Bruschetta is another Italian classic and has been enjoyed as part of multi-course meals in Italian households for generations.
I got inspired by this dish when visiting Italy and decided to add some classic Mediterranean flavors to this recipe.
With each mouthful, you get chunky, milky mozzarella, sweet and juicy tomatoes, and a refreshing undertone of herby basil. All of this is bound with sweet, sticky balsamic glaze on a slice of fried, crusty bread. Oh, it's so good, I can assure you!
Time to Make: 15 minutes
Go to Recipe
Roasted peppers, as my 'roasted peppers (three ways)' recipe shows, are so often my go-to. So I really wanted to find a way to use them in a crostini recipe.
I found their sweet, caramelized flavor paired really well with the saltiness and creaminess of goat cheese.
Their softness is complimented by the crunch of the bread. Finished with fresh herbs and a generous drizzle of sweet balsamic glaze, this is a combination your dinner guests simply have to try.
Time to Make: 15 minutes
Go to Recipe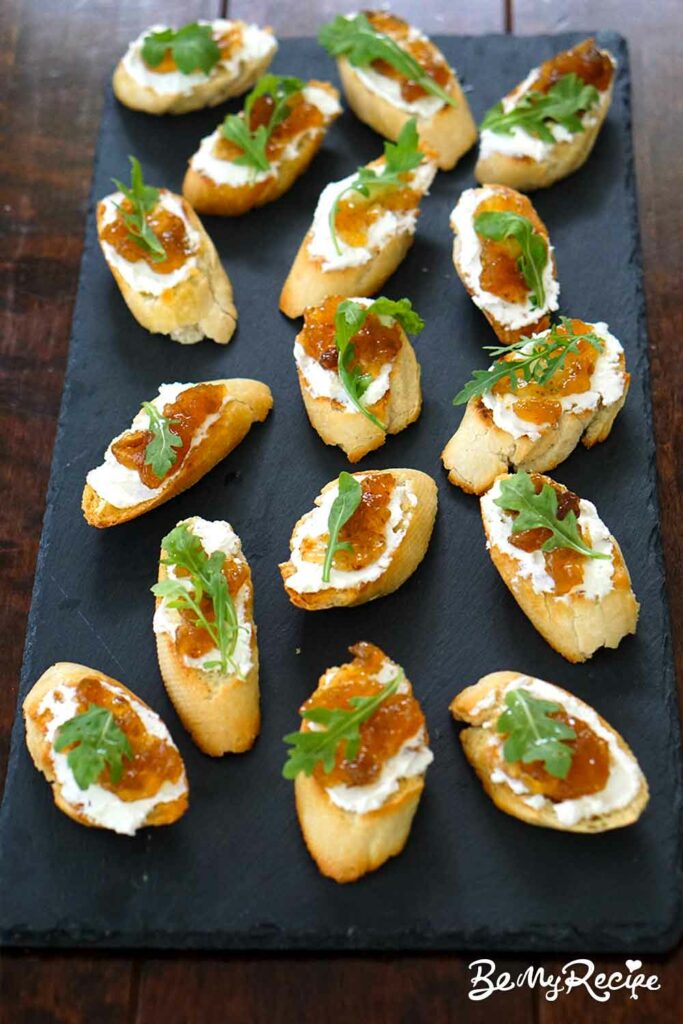 Goat cheese is a great cheese to have for dinner parties because it can be used both in savory and sweet dishes.
A family member introduced me to fig jam from Italy, and from the moment I tried it, I was hooked! So much so that I was quickly able to find it a lifelong partner in goat cheese for another crostini recipe.
Balanced with some peppery arugula notes, you can definitely consider serving this as a dessert because it is so sweet and creamy. Honestly, though, whatever time of the evening you serve it, I can assure you that you'll have more than enough takers!
Time to Make: 15 minutes
Go to Recipe
Sometimes in life, you need to take the handbrake off and let loose. That's very much what I did when creating this utterly indulgent sweet crostini recipe!
There are some rich flavors going on here. You've got juicy strawberries, candied walnuts, and fresh herbs drizzled with a sweet balsamic glaze, all on a bed of creamy honey-ricotta.
For anyone who has a sweet tooth, they won't be able to keep their hands off these crostinis. Naturally, they can be served whenever but are particularly divine with some cocktails or champagne later in the evening.
Time to Make: 15 minutes
Go to Recipe
Recipe Card
Crostini Recipes
Instructions
Select your favorite crostini from the list.
Get the listed ingredients.
Enjoy the delicious crostini.
---
You Might Also Like to Try
Want to get your dinner guests talking about your party long after you've hosted it? Keep my crostini recipes for safekeeping by saving them to one of your food ideas boards.