Get inspired to assemble, press, and serve a lunch or snack like no other with my panini recipes roundup, packed with mouthwatering combinations and creative ideas for you, family, and loved ones to gorge on until your heart's (and stomach's) content!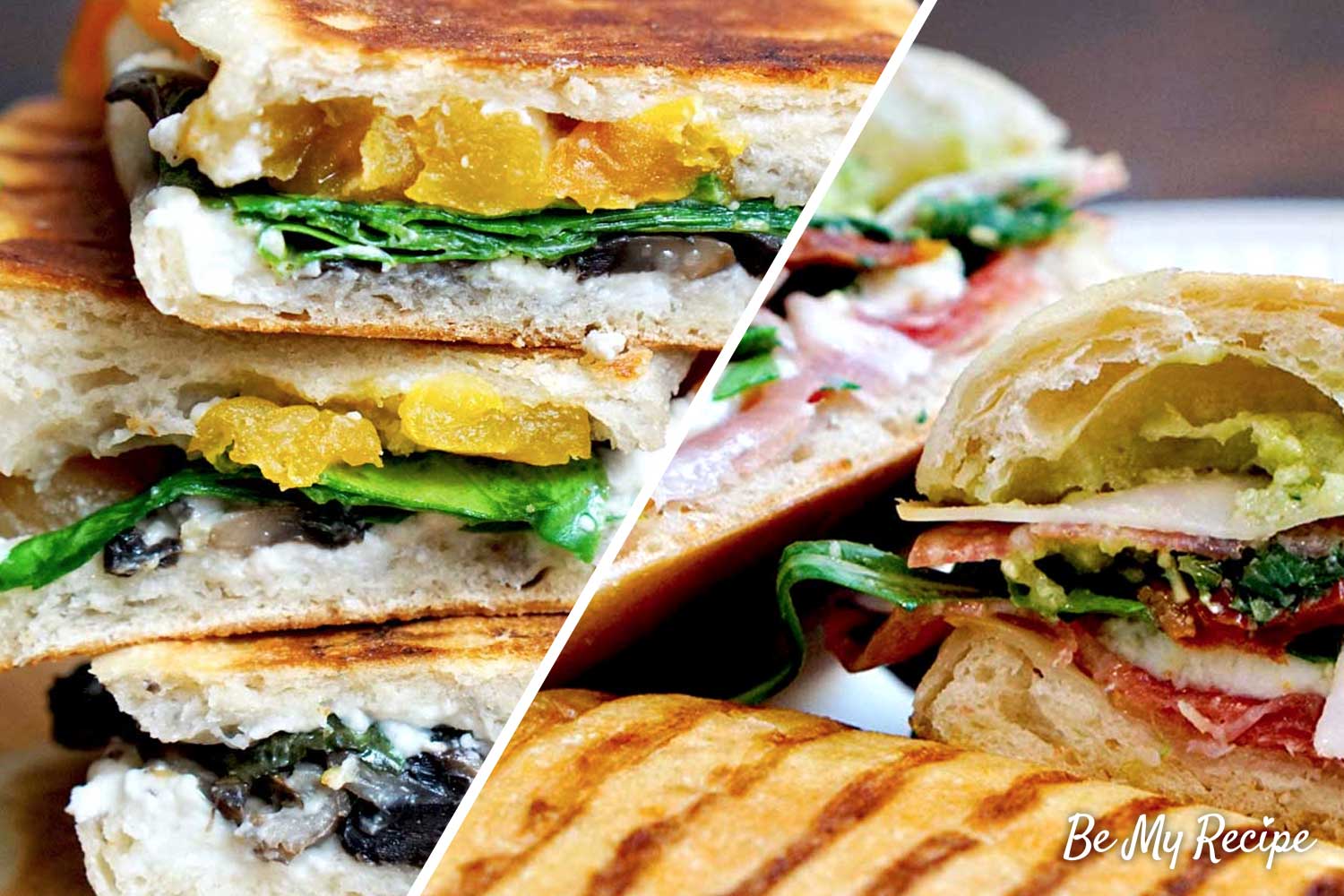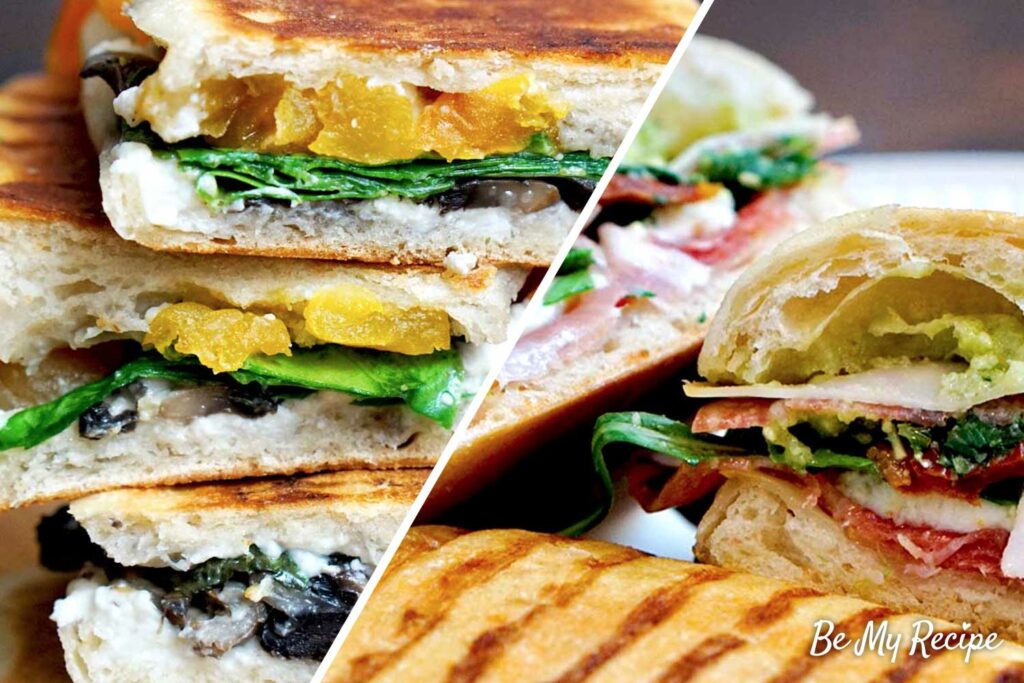 Panini Recipes
I adore paninis! They take everything that is great about sandwiches and then press it into a piping hot, soul-satisfying dish where pretty much any ingredient is welcome to the party!
In this roundup, I've included some of my favorite panini recipe ideas for you to get excited about and try at home yourself. Whether you're a meat-lover or vegetarian, a fan of classic combinations, or want to try something a little more out there, there is an idea in this roundup for everyone to get excited by.
Prepare for your love of paninis to soar off the charts, and I really hope you love some of the ideas and get inspired to make them at home.
Steak night doesn't just have to be on Friday nights: it can be any time of any day you want with my juicy steak panini recipe!
I've pulled together some strong, bold, and sumptuous flavors for this one. You've got your tender, juicy cut of steak nestled on a sizzling bed of sharp, salty blue cheese. The cheese and the meat juices ooze into the bread from the moment the press is opened.
With the peppery notes of the arugula and the sweetness of the roasted pepper for good company, finished with a golden brown panini bread crunch, this is a panini that is unapologetically indulgent!
Go to Recipe
For my Italian-inspired panini, I've taken some iconic Italian flavors and packed them between two halves of crunchy panini bread for a sandwich that instantly transports you to the warm bakeries of Florence or the bustling food markets of Bologna.
There are some truly incredible flavors in this panini. The milky mozzarella, smoked deli meats, and sweet yet tart sun-dried tomatoes meld gloriously on a bed of herby basil pesto and smoked provola.
Finished with peppery arugula, I simply cannot get enough of this panini. Everything from the aromas to the flavors reminds me of why Italian food is some of the most loved all over the world.
Go to Recipe
Loaded with nutrients, my grilled veggie panini is great to try if you want a vegetarian option that is still oozing with flavor.
You've got plenty of earthy, juicy flavors from grilled eggplant, zucchini, pepper, and onion, while the melted feta cheese balances the caramelized sweetness with salty and tangy notes.
The real crowd-pleaser in this panini however is the layer of tahini sauce, that brings nutty, earthy notes to the table, and simply brings the whole thing together. Complete with a golden brown crunch to balance the soft, juicy grilled vegetables, I just can't get enough of this veggie panini.
Go to Recipe
Looking for a vegetarian panini that really pushes the boat out? My mushroom and goat cheese panini sounds like a tasting menu in a Michelin star restaurant but is in fact so easy to make.
You've got super sweet apricots, earthy yet tart goat cheese, and meaty mushrooms all melding in a marriage of bliss on a bed of aromatic herbs and leaves, locked between two slices of crunchy panini bread for a combination that bursts with mind-blowing flavor.
If you want to wow friends or dinner guests, give this panini recipe a try. It's dazzling, unique, and incredibly mature.
Go to Recipe
Perfect for when you have leftover turkey from Thanksgiving, my turkey panini recipe gives plenty of love to a meat that is often overlooked for chicken when it comes to sandwich fillings.
While turkey may be leaner and less juicy than many other types of meat, that doesn't mean it can't be delicious. Here I've coated it with a layer of smoked cheddar and lusciously creamy avocado, with an injection of sweetness coming from pomegranate molasses.
Don't just throw your Thanksgiving turkey into a soup or a bog-standard sandwich. Give it the love it deserves, and make it the star of the show in this creamy yet fibrous, smooth yet crunchy panini that the whole family will enjoy.
Go to Recipe
Does it get more 'Posh and Becks' than 'ham and cheese' when it comes to paninis? I don't think so! This is the go-to sandwich filling for people all over the world, and with this panini, I've taken this iconic pairing and added a little heat and sweetness to take things up a notch.
The smokiness of the ham and cheddar melds wonderfully with the sweetness of the tomatoes and the pepper notes of the arugula, while a careful drizzling of Dijon mustard binds everything together with a welcome injection of tangy heat that ignites the senses.
What blows my mind about this panini is how, with just a few adjustments and a couple of extra ingredients, you can make a relatively simple pairing so much more delicious. Meaty and cheesy, spicy and crunchy, I cannot get enough of this panini.
Go to Recipe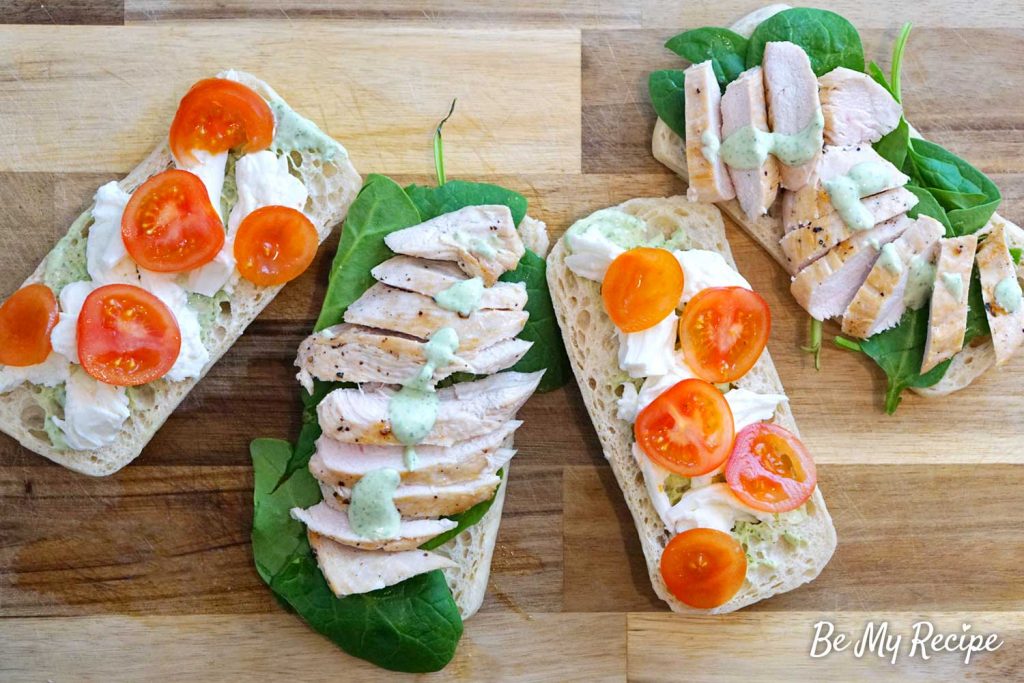 My many years of cooking have taught me to never mess with a winning formula, and that's very much the case when it comes to grilled chicken sandwiches.
What I have done here is taken this classic white meat and elevated it with a little French and Italian-inspired magic.
My grilled chicken panini coats the juicy meat with lemon-basil mayo, melted mozzarella, sweet, fresh tomatoes, and a bed of spinach for an utterly mouthwatering panini.
Go to Recipe
Inspired by the iconic Italian Caprese salad, I took these beloved flavors and packed them into a piping hot panini that just sings 'Tuscan hillside eatery' from the moment you lay eyes on it.
That melted mozzarella binds everything together with its milky tang and thick, creamy texture, while the sweet acidity of the tomatoes and the fresh aromatic notes of the basil instantly transport you to the rolling fields of Italian farms, harvesting their produce for the fall ahead.
Complete with the crunch of the panini bread, this is my beloved go-to panini when I want to go full-blown rustic for dinner or lunch.
Go to Recipe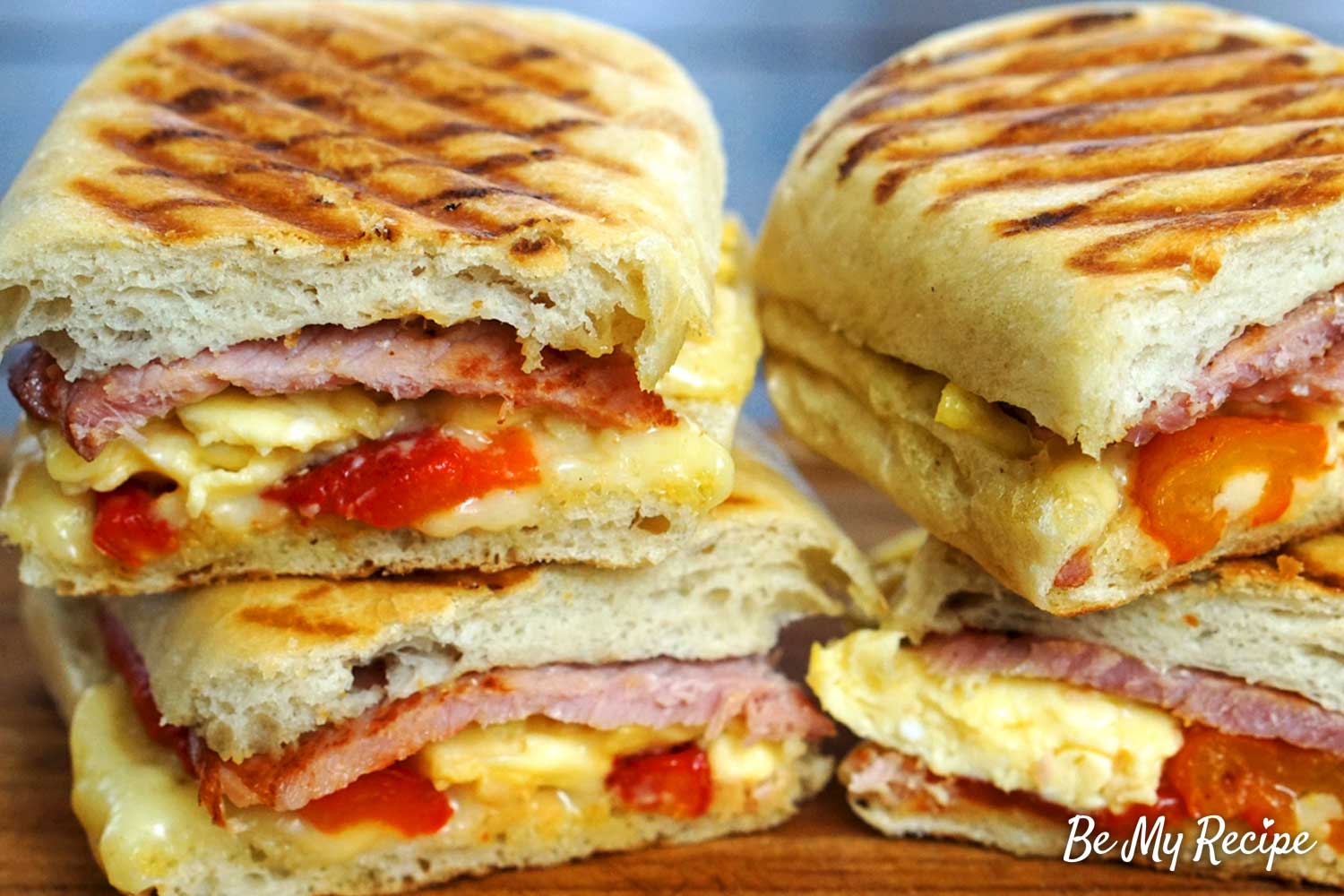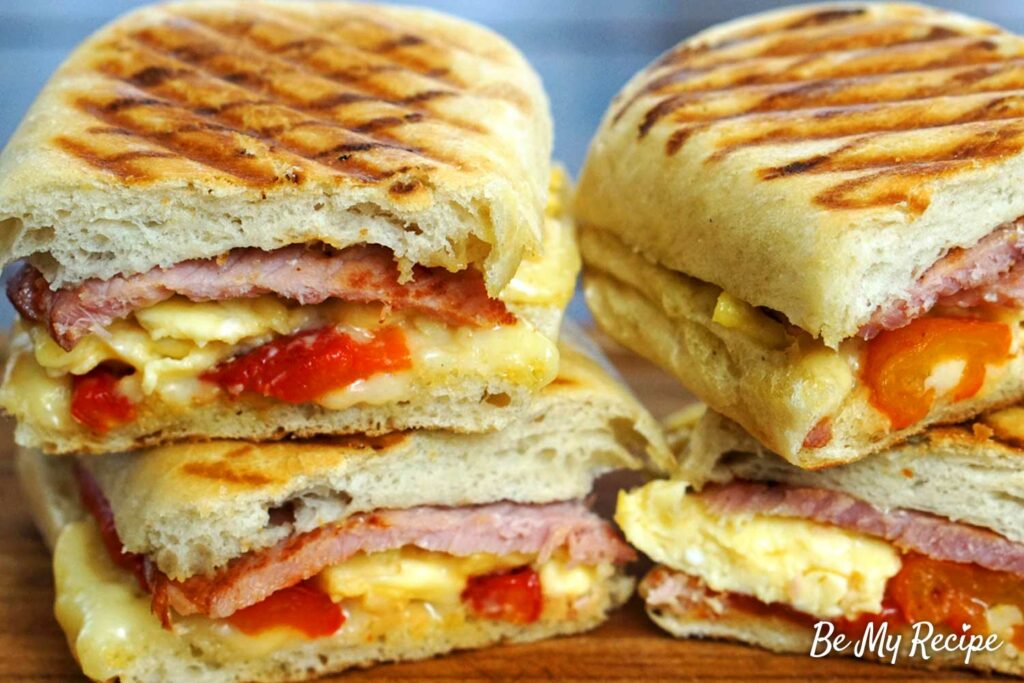 Lovers of traditional American and Full English breakfasts will go ga-ga for this hearty breakfast panini, which packs buttery softness and a satisfying crunch into each and every mouthful.
With fluffy scrambled egg, smoky, meaty bacon, and sweet roasted caramelized peppers smothered in melted cheese and squashed between two slices of golden brown crunch, this panini takes breakfast to a whole new level of oomph!
There's sweetness and saltiness unleashed with every single velvety soft and gloriously crunchy bite. I enjoy it so much, that I treat it as an all-day breakfast and eat it at any time of the day.
Go to Recipe
---
You Might Also Like to Try
Save and Pin for Later
Keep my panini roundup for safe keeping for when you want some super fun lunch or snack ideas by saving it to one of your recipe boards.