Look no further than my chia pudding recipes roundup for a range of sweet, creamy, and fruity snacks that can fuel you up in the morning or afternoon while putting a wide smile on your face.
Chia Pudding Recipes
I absolutely love having chia puddings in the fridge, ready to grab and go as I'm leaving the house on the way to work.
Once you've mixed your chia seeds and milk, there really is no end to the fun you can have with chia puddings. You can add so many different fruits, toppings, and foods to them to make a pudding that's just right for you.
I've included 7 of my favorite chia pudding recipes in this roundup. From energizing puddings to turbo-charge your mornings, to sweet and indulgent puddings to enjoy for a cheeky dessert, hopefully, there's something in this list that will really take your fancy.
And please, if you come up with your own fun and yummy combinations, let me know in the comments what you love to put in your chia puddings. There's no end to the creativity you can have with this simple and filling snack.
I'm starting this roundup with one of my favorite chia puddings. This vibrant and delightfully sweet dish combines two classic exotic flavors, mango and coconut, for a sumptuously fruity chia pudding.
Pairing the bold sweetness of mango and the subtle sweetness of coconut makes for a really balanced pairing. Plus, both these fruits add freshness and aromatic notes to the chia pudding, which never fails to put me in a positive mood.
Go to Recipe
Go to Recipe
Bananas and strawberries are a tried, tested, and beloved pairing, so I simply had to try them both in a chia pudding which delivers a wonderful fruity punch.
You've got the freshness, sweetness, and slight sharpness of the strawberries lacing the dense, sweet creaminess of the banana for a mouthful packed with refreshing flavor.
Add the crunch of the chia seeds, and you have a chia pudding that can be enjoyed as a fruit-filled morning breakfast, afternoon pick-me-up, or health-conscious dessert all in one.
If you're ready to indulge in a truly luxurious chia pudding for dessert, my vanilla banana chia pudding should go to the top of your list.
Combing the delicate sweetness of banana and coconut milk, this dish is finished with a tablespoon of vanilla paste, which brings floral, sweet, almost caramel-like notes to the pudding.
Hitting that perfect level of sweet and creamy without being overbearing, no one would blame you for eating this show-stopper at any time of the day!
Go to Recipe
Straight from a picturesque white beach lapped by crystal waters in the Caribbean, my tropical chia pudding brings a welcome taste of paradise to you in a big way.
The juiciness of the pineapple, floral sweetness of the coconut, tartness of the passion fruit, and fleshy sweetness of the kiwi fruit combine to make a pudding that delivers bold, fruity flavors with each and every mouthful.
For those warm summer evenings when you're hungry but don't want to put the hob or oven on, this is one of my go-to snacks. I even serve it in a big cocktail glass to really make me feel like I'm on holiday!
Go to Recipe
Sometimes in life, you just have to let that naughty side take over for a moment, and that's exactly what I did with my chocolate chia pudding recipe!
In this rich pudding, I've used dark chocolate and cacao powder to add deep, earthy notes to the sweet banana and coconut.
This is the chia pudding you pull out of the fridge when the sun has set, and it's time to relax in front of the TV in your pajamas. It's indulgent, thick, and chocolatey, and it doesn't try to hide it one bit!
Go to Recipe
If you struggle in the mornings to find time for a hearty and nourishing breakfast, my blueberry chia pudding could be the perfect grab-and-go snack for you to eat on your commute.
Putting one of the most well-known superfoods at the forefront, I've paired it with orange zest, almond milk, chia seeds, and a sweetener such as agave syrup for a snack that is mildly sweet and citrussy, and a more health-conscious choice.
Use it to fuel up in the morning, boost your mind and body during the afternoon slump, or get some goodness in you if you're working late and want to avoid unhealthy takeout.
Go to Recipe
Perfect for a health-conscious, quick, and simple breakfast, my orange-cinnamon yogurt chia pudding has a fun, light, and creative flavor profile.
I love the sweet and sour of the orange with the spice of the cinnamon, lacing each and every creamy and crunchy bite.
Top this with a handful of granola once you pull it from the fridge, and you have a simple and nourishing breakfast that, let's be honest, you can eat any time you like.
Go to Recipe
Chia puddings are a real game-changer if you live a busy life and often struggle to eat homemade meals.
Their diversity means you can use so many fruits, foods, and ingredients in them, and with chia seeds, plant-based milks, and various fruits, you're always getting a hearty meal that has some vitamins and goodness in it.
I really hope you like some, if not all, of these chia puddings if you decide to make them. Some are great for breakfast, some as a filling snack, and others for dessert, but all of them are creamy, hearty, and packed with flavor.
Have fun with your chia puddings, and if you've never tried them before, I hope they revolutionize the way you eat when pushed for time.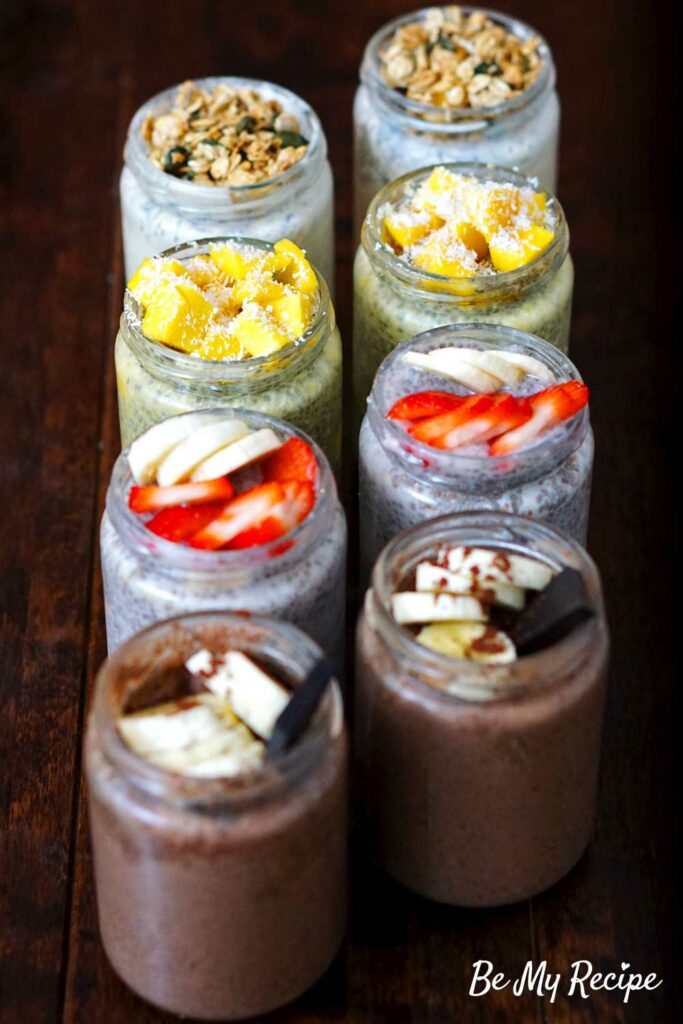 ---
You Might Also Like to Try
Save and Pin for Later
Keep my chia puddings roundup for safekeeping, ready for when you're looking for meal prep ideas, by saving this article to one of your Pinterest boards.